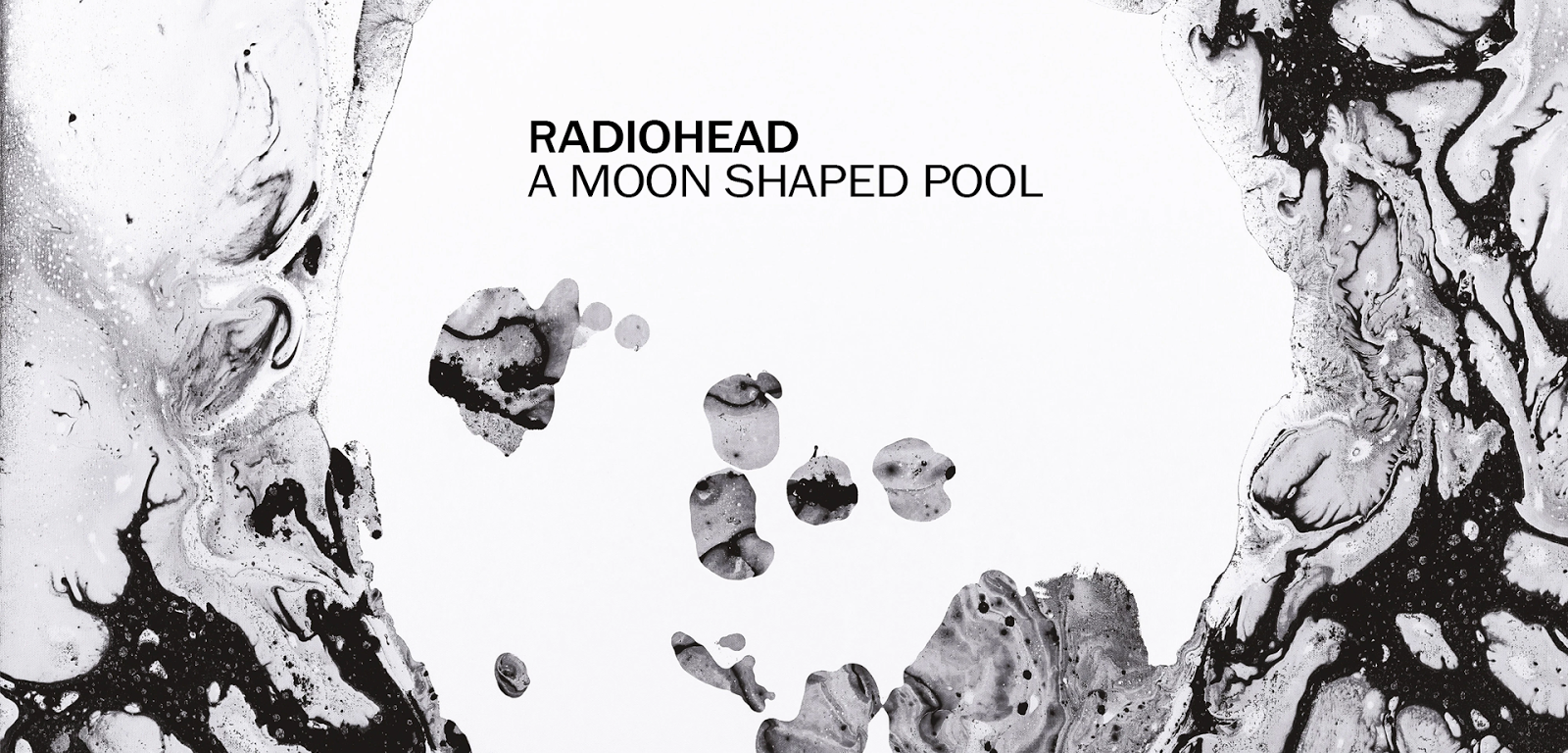 Radiohead released their achingly beautiful ninth LP, A Moon Shaped Pool today, May 8th, 2016. No doubt drawing on the disintegration of his 23 year relationship with Rachel Owen, Thom Yorke's college sweetheart and wife, Pool is replete with moments of pure heartbreak, loneliness and emotional despair in its blunt exploration of human intimacy, a theme the band hasn't touched on in years.
Pool marks a notable achievement in it's stunning display of naked vulnerability, made all the more notable considering their 2007 In Rainbows introduced and made them relevant to a new millennial generation. Despite its shorter length, In Rainbows was the quintessential collection of all the Radiohead sounds we loved, from spectral piano ballad to in-the-pocket prophecy and back again. Discarding Kid A/Amnesiac's ambient meanderings any rash of lucid moments were tampered down by Rainbows swift pace.
The band then doubled down with 2011's most unloved The King of Limbs. It met with a lukewarm reception and never seemed to find an audience, despite containing some of Radiohead's tightest playing yet. It grew on me slowly over a handful of years as a kind of spiritual jazz record, winning me over with its unwavering focus on its own repetitious mantras. A Moon Shaped Pool takes the entirety of their lessons thus far and dives deeper, proving a whole is greater than the sum of its parts. 
Opener "Burn The Witch", one of the several songs on this record that has surfaced in fragments at shows for years, makes this clear with its quantized string swells that simultaneously evoke the brit-pop grandeur of Oasis and The Verve while taking the sonic trope someplace more far-out than any of them. Though Radiohead have embraced orchestral arrangements since O.K. Computer, Jonny Greenwood's vast compositional experience between albums has shown those arrangements getting more complex, as he's scored P.T. Anderson's There Will Be Blood, Inherent Vice and The Master (among other projects). By opening with a ritual, Radiohead usher their signature explorations of demagoguery and paranoia to the fore. It's a sudden moment of urgency and immediacy they use with intention, creating a push and pull between energy and passivity that the rest of Pool applies to its flow.
You hear this immediately with "Daydreaming", as dreamy loops invite you back to a Kid A future while a repeating piano run carries you through. In this receptive state yet still struggles to arrive at a place of clarity—"Beyond the point of no return, and it's too late, the damage is done," Thom says, later repeating "half of my life" backwards. At 47-years-old Thom had, in fact, been with Rachel Owen for half of his life as the relationship dissolved. It's hard not to hear him baring it all with this insight, and coming from a band that sometimes makes its themes difficult to unpack, such moments of transparency are breathtaking. Jonny Greenwood's buddy P.T. Anderson directed the stunning clip for "Daydreaming", too, which depicts Yorke in movement, desperately searching for light.
We turn a gorgeous psych-folk ditty corner with "Desert Island Disk," parting clouds to let a few rays of light filter in. Then comes "Full Stop", the darkest and most propulsive track on Pool. A sinister synth bass line reminiscent of "All I Need" or "The Gloaming" lingers low in the mix, and Yorke finds his recent despair is starting to bring him wisdom, albeit a dark-and-growing-darker wisdom. "This is a foul-tasting medicine, to be trapped in your full stop, truth will mess you up," he intones. Much like the taste of shamanistic brew, his journeys bring epiphanies that are eye-opening but not necessarily comforting. There are further directional signs of his trajectory on "Glass Eyes." He's still in a mood, but at least he's moving, finally able to see the "glassy-eyed light of day."
"Identikit" sounds like self-therapy, as the catchiest tune on Pool explores the power of will to change one's own reality. The "broken hearts make it rain" lyric might sound like a comment on the tears of a break-up, but viewed in the larger trajectory as an example of how our individual mental state affects the environments around us, the lyric takes on a much more significant resonance to Yorke's resolve. An identikit is another word for those composite caricatures that police sketch artists whip up to identify criminals, go figure.
He sees the moon smiling, here, too, over dulcet piano runs that sound like harp chords in that stock-sound evocation of heaven, clouds parting and all. In that moment, where anyone healing from the end of a relationship feels like someone recovering from an addiction, he ends the song by affirming, "one day at a time." The title of a children's rhyme is evoked to comment on trajectory with "Tinker Tailor Soldier Sailor Rich Man Poor Man Beggar Man Thief." A fire is built to keep the animals away, and nature can be a threat. Duly noted.
All that resolve climaxes on "True Love Waits", the stunning closer track that has been a live Radiohead favorite for years. Reborn from its first arrangement as a solo guitar number, Thom's sparse piano fingers form pools around his every syllable. "And true love waits in haunted attics, and true love lives on lollipops and crisps," he croons. "Just don't leave." Played as the penultimate encore during the Amnesiac tour (and captured in its acoustic glory on the live record I Might Be Wrong,) "True Love Waits" always had the power of a final lesson. On Pool, though, it's the perfect cap to the journey we've been invited along on. "We tried to record it countless times, but it never worked," producer Nigel Godrich told Rolling Stone's David Fricke in 2012. "To Thom's credit, he needs to feel a song has validation, that it has a reason to exist as a recording. We could do 'True Love Waits' and make it sound like John Mayer. Nobody wants to do that."
That's the beauty and immaculate realization of A Moon Shaped Pool right there—for all Radiohead's vast back-catalog of live songs never released, for all of its identifiable sonic shifts, the boys have created a work here that sounds crafted and composed but not meticulous. "True Love Waits" does feel like a validation, as does the whole album, that Radiohead remain dedicated witnesses to strange new sonic universes. It may have taken years, but this time, they've gifted us with a window into their own.